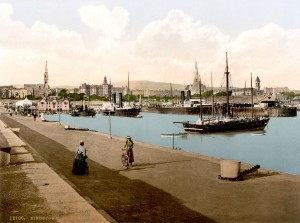 Mount Merrion Historical Society would like to advise you of our upcoming talk at 8:00pm on Thursday 5th December in Mount Merrion Community Centre.
Regards
Peter Walsh Hon. Sec.
Presented by Peter Pearson
8.00pm Thursday 5th December
Peter's talk will range over the many treasures in the Dun Laoghaire area – from medieval to Victorian, from harbour to town and rural areas, also including some which are under threat of disappearing.
Peter Pearson is an author, historian, conservationist and noted artist with a lifelong commitment to the protection and enhancement of Ireland's architectural heritage. An Taisce in 1985 claimed that Pearson was responsible the for the co-ordination of their 1985 report that identified the Temple Bar area by name and included a comprehensive historic and architectural inventory which led to its significance being re-evaluated. He is author of many books including Between the Mountains and the Sea and Decorative Dublin.
THE COMMUNITY CENTRE, MOUNT MERRION
Admission: Members No charge (see Season Membership)
Non-Members: €4.00 (Students €2.00)
While the Society will endeavour to deliver the published agenda, lectures and speakers may be changed due to circumstances outside its control.
web site: www.mountmerrionhistorical.com