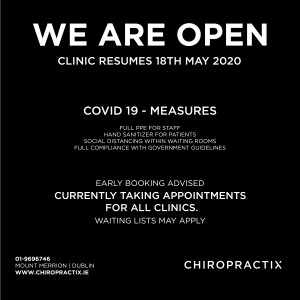 Dear Mount Merrion Residents Association,
We hope you are keeping well and safe at this time.  
We just wanted to reach out and let you and the members know that our Chiropractic Clinic in The Rise Medical Centre will be opening from Monday 18th May, following all guidelines in relation to PPE and government directive. 
If any members would like to ask advice directly to myself or have any questions, my email is paul.bradley@branch.ie.  I am now the Principal Chiropractor at CHIROPRACTIX.
Kindest regards,  Paul
Branch Healthcare LTD Dr Paul Bradley DC BSc(Hons) MCAI
Doctor of Chiropractic | Managing Director
Email: paul.bradley@branch.ie