The Stillorgan Chamber of Commerce, spearheaded by local photographer Dominic Lee completed an exciting project to erect a bronze sculpture of Stillorgan born artist Sir William Orpen.  The sculpture by Rowan Gillespie was unveiled outside the Talbot Hotel in September 2018.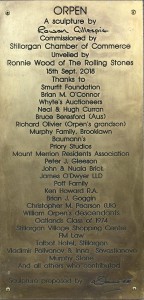 A plaque to thank all the sponsors has been erected.  The Mount Merrion Residents Association contributed €1,000 towards the scuplture.  For full details of the project see http://www.sirwilliamorpen.com or stroll down to the hotel to view the sculpture.
Dún Laoghaire-Rathdown County Council presents the first dlr Age Well Expo in association with the dlr Age Friendly Alliance. The event will take place in the Pavilion at Leopardstown Racecourse to celebrate and showcase services and products available to older people in Dún Laoghaire-Rathdown. Entry to the event is free of charge.
This is a very comprehensive EXPO aimed at older people. A wide range of assistance and services will have stands at the event. It is not just older people who should attend but also people who may have elderly relatives or have responsibility for assisting elderly people.
A good example is someone who has been asked to be an executor or a will or estate for an elderly relative, friend or neighbour.
read more
Subscribe for regular news updates
Mount Merrion is a suburban estate in South County Dublin developed on lands once the seat of the Viscounts Fitwilliam. Centred around the Deerpark, a public park first landscaped by the 5th Viscount, and the remains of the house he built there in 1711, Mount Merrion today is generally considered to be bounded to the North by The UCD campus at Belfield, to the East by the N11 and Booterstown and Blackrock, to the South by Stillorgan and Kilmacud, and to the West by Goatstown and Clonskeagh.  *Lower Kilmacud Road residents on the right-hand-side from Stillorgan Shoping Centre, odd numbers 101 to 167, including 111a, are within Mount Merrion demense.  The Mount Merrion Residents Association, founded in 1935, is the oldest residents' association in continuous existence in Ireland. It represents the following roads:
Callary Road
Cedarmount Road
Cherry Garth
Chestnut Road
Clonmore Road
The Close
Cypress Road
Deerpark Road
Fosters Avenue
The Fosters
Glenabbey Road
Greenfield Road
Greygates
Iris Grove
Lower Kilmacud Road (partial)
Mather Road North
Mather Road South
Mount Anville Road
North Avenue
Owenstown Park
Redesdale Crescent
Redesdale Road
The Rise
Roebuck Ave
St Thomas Road
St Thomas Mead
South Avenue
Sycamore Road
Sycamore Cresent
Sycamore Avenue
Thornhill Road
Trees Avenue
Trees Road Lower
Trees Road Upper
Wilson Crescent
Wilson Road
At its peak, Mount Merrion rises to 82m (269ft) above sea level.