The Stillorgan Chamber of Commerce, spearheaded by local photographer Dominic Lee completed an exciting project to erect a bronze sculpture of Stillorgan born artist Sir William Orpen.  The sculpture by Rowan Gillespie was unveiled outside the Talbot Hotel in September 2018.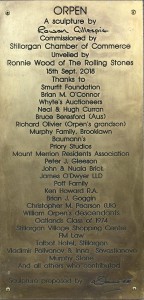 A plaque to thank all the sponsors has been erected.  The Mount Merrion Residents Association contributed €1,000 towards the scuplture.  For full details of the project see http://www.sirwilliamorpen.com or stroll down to the hotel to view the sculpture.
MMRA have submitted an Observation An Bord Pleanala regarding the Glenville Strategic Housing Development Application ABP-304063-19.
read more
Subscribe for regular news updates
Mount Merrion is a suburban estate in South County Dublin developed on lands once the seat of the Viscounts Fitwilliam. Centred around the Deerpark, a public park first landscaped by the 5th Viscount, and the remains of the house he built there in 1711, Mount Merrion today is generally considered to be bounded to the North by The UCD campus at Belfield, to the East by the N11 and Booterstown and Blackrock, to the South by Stillorgan and  Kilmacud, and to the West by Goatstown and Clonskeagh.
The Mount Merrion Residents Association, founded in 1935, is the oldest residents' association in continuous existence in Ireland. It represents the following roads:
Callary Road
Cedarmount Road
Cherry Garth
Chestnut Road
Clonmore Road
The Close
Cypress Road
Deerpark Road
Fosters Avenue
The Fosters
Glenabbey Road
Greenfield Road
Greygates
Iris Grove
Lower Kilmacud Road
Mather Road North
Mather Road South
Mount Anville Road
North Avenue
Owenstown Park
Redesdale Crescent
Redesdale Road
The Rise
Roebuck Ave
St Thomas Road
St Thomas Mead
South Avenue
Sycamore Road
Sycamore Cresent
Sycamore Avenue
Thornhill Road
Trees Avenue
Trees Road Lower
Trees Road Upper
Wilson Crescent
Wilson Road
At its peak, Mount Merrion rises to 82m (269ft) above sea level.