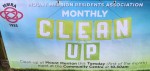 The MMRA Clean Up team resumed work on Tuesday 2nd June, the first Tuesday of the month.  We did not meet during strict lock down in April and May.  There was plenty of litter picking to do!
Our loyal core group, about 10 members turned up.  The roads in Mount Merrion were clean and tidy after our Community Tidy Up on 23 May.  Our attention was directed to the Park, which is getting really heavy usage nowadays.  We got 8 large Blue Bags of rubbish.  Can you imagine how the place would look if this was left lying around, month after month.  If we don't do it, no one does.
Thanks to our loyal Clean Up team who show their practical love for the environment by turning up each month.
Enjoy beautiful Mount Merrion