The Mount Merrion Historical Society 2017-18 Talks Season has commenced.  As usual a Season ticket will cost €20, €30 for couples. For non-members the entrance cost each night is still €4.00. Visitors are very welcome.
On Thursday November 2nd, writer and historian Tim Fanning will be speaking about his fascinating Book 'Paisanos: The Forgotten Irish who Changed the Face of Latin America'.  Talk starts at 8.00pm in the Mount Merrion Community Centre.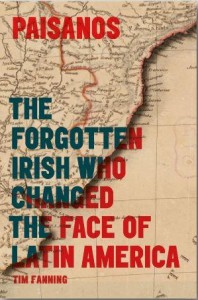 The story of the Irish diaspora in the United States is a familiar one.  Less well-known is that of the Irish who settled in Latin America.  Tim Fanning traces the colourful history of Irish emigration to Spanish America, beginning in the sixteenth century.  He looks at the ambitious Irish merchants and soldiers who settled in South America in the eighteenth century and secured important positions in the colonial government.  They included Ambrose O'Higgins, the Sligo-born son of tenant farmers, who became the Viceroy of Peru, the most powerful man in South America.  In the early nineteenth century, the Irish fought for the achievement of independence in Argentina, Chile, Uruguay, Bolivia, Peru, Colombia, Venezuela, Ecuador and Mexico.  Many of these Irish men and women later played significant roles in the development of the Latin American republics.
Tim Fanning is a writer and historian. His first book, The Fethard-on-Sea Boycott (Collins Press: 2010), was published to critical acclaim in 2010.  His latest book, Paisanos: The Forgotten Irish who Changed the Face of Latin America (Gill: 2016), has recently been published by Sudamericana in Buenos Aires in a Spanish-language edition.
If you have an interest in Heritage/Local History/Writing articles/Genealogy please do contact me.
See you.
Des Smyth MMHS