Mount Merrion Historical Society are hosting their next talk on Thursday February 1st.
How has Dublin changed over the past 100 years? When was it rebuilt after the 1916-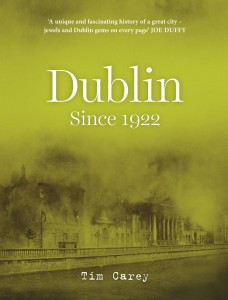 1923 period? How were the Slums and Tenements eliminated? How did the modern face of Dublin develop?
For the past decade Tim Carey has diligently researched the growth of Dublin (good and bad) year by year over the past century. His best-selling book of the same name is a fantastic read.
Tim's talk unfolds around hundreds of dates in the history of Dublin city, beginning with the founding of the Irish state – when Dublin had the worst slums inEurope – and ending in the last days of the Celtic Tiger. Through major events, Carey charts nearly a century of the capital's history, from the Civil War, the Eucharistic Congress and President Kennedy's visit, to the 1986 earthquake, the Stardust disaster and the changing faces of the St Patrick's Day parade.
Tim Carey is a historical researcher and has written many books including: Mountjoy: the Storyof a Prison, Hanged for Ireland, Hanged for Murder: Irish State Executions, Croke Park: A History and his latest and most ambitious book to date Dublin Since 1922.
His illustrated talk on Feb 1st promises to be a really enjoyable event. Come along and see for yourself.
Admission: Members No charge (see Season Membership), Non-Members: €4 (Students €2), Season 2017-18 Membership: €20 per person / €30 per couple.  While the Society will endeavour to deliver the published agenda, lectures and speakers may be changed due to circumstances outside its control
You will be most welcome.
Best Regards
Mount Merrion Historical Society