Illustrated Talk by Cormac Lowth – 8.00pm Thursday 7th March 2019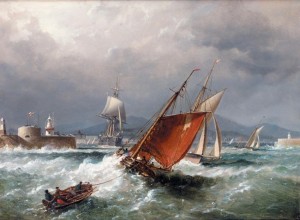 Admiral Richard Brydges Beechey 1808-1895, was a marine artist who lived in Dublin for part of his life, notably in Dun Laoghaire and Monkstown. At twelve years of age he joined the Royal Navy as a Midshipman and he sailed on voyages of exploration under his brother, Captain Frederick Beechey.
Richard Beechey was a prolific artist, painting mostly in oils. Many of his paintings show Royal naval vessels, in addition to many of the big yachts of the day. He also painted many seascapes depicting the Irish Coast. Beechey had a penchant for painting some of the mail-boats that plied between Kingstown and Holyhead.
Cormac Lowth has had a lifelong interest in the sea, and historical matters. He has served on the Councils of the Maritime Institute of Ireland, and The Old Dublin Society. He is a frequent lecturer on maritime matters to many Historical Societies and is a regular contributor of articles to several Historical journals including the "Dublin Historical Record". He is one of the crew of the Naomh Crónán, a traditional style Galway Hooker which is based in Ringsend and has an abiding interest in Maritime art
THE COMMUNITY CENTRE, MOUNT MERRION
Admission: Members No charge (see Season Membership)
Non-Members: €4.00 (Students €2.00)
Season 2018-19 Membership: €20 per person / €30 per couple
email: mountmerrionhistoricalsociety@gmail.com
web site: www.mountmerrionhistorical.com
While the Society will endeavour to deliver the published agenda, lectures and speakers may be changed due to circumstances outside its control