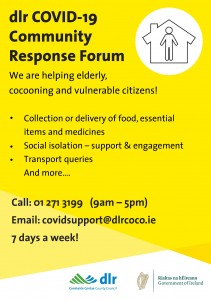 DLR have set up a new Covid-19 Helpline: 01 271 3199 or email address: covidsupport@dlrcoco.ie
Dun Laoghaire Rathdown County Council are to champion the collection of Prescriptions, Meals on Wheels, Fuel and small Missions of Mercy.
Please direct all calls to the new DLR Helpline and not Blackrock Garda.  Since An Taoiseach's announcement on Friday night, significant Garda resources have been redeployed and their capacity to continue to provide the level of assistance previously envisaged is now limited to emergency calls only.
The MMRA would like to extend an offer of help to any elderly, 70+ cocooners or those who may have their immunity compromised.  If you need help with essential errands please email us at mmra@mountmerrion.ie with your name, address and phone number.  Alternatively please text or phone Nicola Heather on 087 639 5392.
Pension Collection: If you are unable to collect your pension at the post office, you can only nominate someone as a temporary agent to collect it on your behalf.  You must fill out a form to nominate an agent.  The form (TA1 ) is only available at the post office.  See Gov.ie for full details https://www.gov.ie/en/service/451fd7-authority-to-appoint-an-agent/