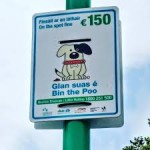 Dog owners and walkers please help us reduce the incidence of dog fouling in Mount Merrion.   Dog fouling is litter and subject to an on the spot fine of €150 by dlr or possible prosecution in court, which can incur a fine of up to €4,000.
The dlr Green Dog Walkers Scheme encourages owners to "Take the Pledge" to always clean up after your dog and to carry extra doggie bags.  When you sign up, DLR will send you a complimentary green dog walker "doggie bone" poop bag dispenser with a roll of bags.
Simply complete the Green Dog Walker form and return to Litter Section, Infrastructure and Climate Change Department, County Hall, Marine Road, Dun Laoghaire.  For more information email info@dlrcoco.ie
To report incidents of dog fouling, please contact the Council's Dog Control Section at 01 205 4711.