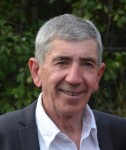 It was with great sadness that MMRA heard of the news of the passing on of Christy Carton in June 2020. For 37 years, from 1980-2017, Christy supplied the residents of Mount Merrion with fresh fruit, vegetables, plants, and flowers from his shop on Deerpark Road. He was regarded as "a bit of a character" and "a local wit" by his many customers.
Christy had a great love of horses and when given a chance he would love to talk about his early life as a jockey. He would say that his love of horses came from his father. His father was a member of the Irish Army Equestrian Team and for many years performed at the Annual Dublin Horse Show in the RDS.
So, on behalf of MMRA I would like to say a belated "Thank You Christy" for sharing your good humour, wit and your dedication in caring for the residents of Mount Merrion. You and your family are in our thoughts.