The MMRA were notified of ongoing anti-social behaviour on North Avenue, Mount Merrion, near the entrance to Deerpark.  About six months ago, 3 men, on their way home, went into the driveway and smashed two large plants on the ground, walking away calmly.
There is also several incidents of graffiti seemingly happening at about 1am at night.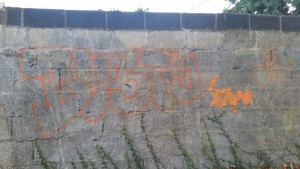 It is obviously a very distressing event for the resident concerned.   The MMRA have contacted Blackrock Garda Station and received the following advice:
Any incidents of a criminal nature that you are aware of please make contact/call to your local Garda station and report the matter in person.
Blackrock Garda Station, 15 Sweetmans Avenue, Blackrock.  A94 X660.  Phone: 01 666 5200