Knight Frank – Development Land for sale in Beaufield Mews, Woodlands Avenue, Stillorgan, Co. Dublin, A94 Y7Y8.  Property Ref: IEPRVDL88519 
The subject site extends to approx. 0.73 acres (0.29 hectares) and currently comprises the former Beaufield Mews Restaurant and antique shop with secluded gardens to the rear located at Woodlands Avenue, Stillorgan.  The site is bounded by Oatlands College and Primary School to the north, in a majority residential area with Beaufield Manor to the east/south and Cherrygarth to the west.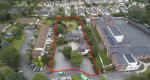 Under the Dún Laoghaire Rathdown Council (2016-2022) the entirety of the site is zoned objective A, that is 'to protect and/or improve residential amenity' under which residential development is permitted in principle.  Ferreira Architects have prepared a feasibility study for the site – options include: i.) 34 no. apartments over two blocks ranging in height from 3 to 5 storeys or ii.) 7 no. terrace houses and 9 no apartments with surface car parking.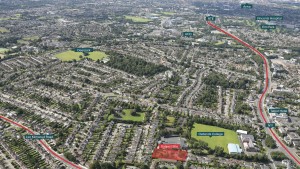 Irish Times Commerical Property article 22 July 2020