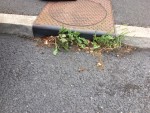 During the clean-up we came across several rain gullies clogged with leaves and mud.   This photo is one of at least 3 side-entry rain water gullies on the upper Rise that was totally blocked up.  Surface water from heavy rainfall could not get into any of these gullies, hence a large flood runs down the road surface of The Rise.
Surface level gullies on Trees Road and at the junction with the N11 were also found to be clogged with leaves and mud.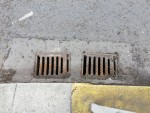 Please can residents local to such gullies keep them free from blockage.