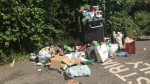 Update from Dún Laoghaire Rathdown Co. Council 4/6/20:
We are experiencing high levels of activity across all parks/ open spaces, and we realise Deer Park is particularly busy. DLR (Parks & Cleansing Sections) will increase our collection times in this area. Kind Regards, Christine,  Dún Laoghaire Rathdown Co. Council
MMRA contacted dlr on several occasions over the June bank holiday weekend regarding the overflowing bins in Deerpark.  They are being regularly emptied but are soon full again.   We would ask that visitors bring home their own litter if the park bins are full.  Please report any issue with litter and bins to dlr Parks Department.  Please include location and relevant photograph if possible.  All emails are logged and followed up.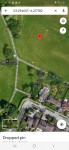 A resident reported broken glass on the field in Deerpark on May 31.  See photo for approx location.  This has been reported to dlr (CRM 185129).  Please take care.