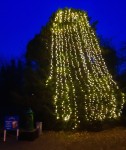 A very special Post Box has arrived in Deerpark by special commission of Santa Claus.  Santa would like to encourage children to post their letters early this year so the elves have plenty of time to make presents. They too are spending extra time washing their hands and keeping their distance in the toy factories of the North Pole this year.
The letters are whizzed off to the North Pole via Elf Airlines direct to Santa who replies to every single one.  Remember to include your return address on your letter and post in the box located just beside the tennis courts.  Look out for the tree lights.
The postal address is Santa Claus, North Pole, The Arctic, The World, The Universe.  
Santa is going high-tech with a special Santa Vlog from the North Pole each Saturday before Christmas in December on dlr Events Facebook. This free online vlog will connect children with Santa Claus in a dramatically new and personal way "live" from the North Pole.
Click here for details of dlr Christmas Events