Many thanks to all who joined us on our Community Tidy Up on Saturday May 23rd.  Almost 30 people turned out.  Verges on many roads looking sharp and tidy.
Especially grateful to those who volunteered to collect the full bags in their own cars and joined long queues to the dump.  A huge thank you to Deirdre and Jeff Davys from Greygates, for their trojan work collecting and disposing of two full trailer loads of heavy bags from multiple roads on our behalf.
Cypress Road deserves special mention for Community effort, it is all spruced up from top to bottom and all waste disposed of by the residents.  And thank you to The Merrion Tree for the complimentary teas and coffees for helpers.
MMRA would like to thank SuperValu for the High Viz Vests and especially the members of staff who were out bright and early on Saturday morning to help us clean-up The Rise and The Close.
Please continue the good efforts keeping our common areas, verges, aisles, roundabouts looking clean & tidy.  If you don't do it, no one else will.  Keep up the good work.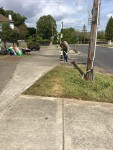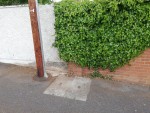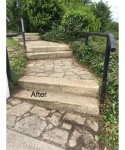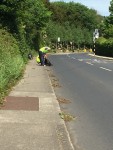 MMRA appreciates the assistance of McGill Construction Ltd (Flanagan site) who removed accumulated debris from the road roundabout at the North Ave /Greenfield Road junction.
Thank you also to Councillor Barry Saul for offering to help out with the disposal of the remaining Green Waste from the Community Day in Mount Merrion.
Some photos taken by residents on the day illustrate the hard work and team effort by all involved.  A great day all round.
If you have any before and after photos you would like to share, please email them to newsletter@mountmerrion.ie