May 23rd Cleanup Update:
Thank you to everyone who has volunteered to help spruce up our Green Grass Verges, kerbsides, garden walls and communal green spaces on Saturday.  Great to hear the kids will be getting involved too.
SuperValu have kindly sponsored High Viz vests for volunteers to wear.   Karl Bergin of The Merrion Tree has offered free tea or coffee to all the helpers.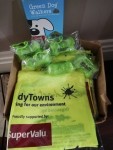 Meet outside the MM Community Centre at 10am.  Spades, hoes, edging tools, the odd lawnmower and your own gardening gloves at the ready….
Garden waste from the clean-up will need to be collected in bags.  MMRA will cover the cost of its disposal in Ballyogan Recycling Centre.  We will need to do a few runs to Ballyogan with the green waste so volunteers to help are needed.
Planters on The Rise, at SuperValu, and at the Deerpark Road entrance to the Park – Clare Kelly has kindly volunteered to tidy out these planters 
Greenfield Road – Thank you to Des and Alice Smyth who got a head start over the weekend.  They cleaned up the kerb area from their home to the North Avenue Junction and removed grit, grime and weeds at all the roundabout intersections.  The hardened cement dust and grime was loosened and put into bundles and removed as much as possible.  MMRA is following up with building site management re same.  
The Close: SuperValu have agreed to help clean up the area behind their store and will have staff on hand on Saturday.
If there is a communal area you would like to volunteer for please email mmra@mountmerrion.ie or the Neighbourhood Watch Administrator for your road.
Here are a few before photos…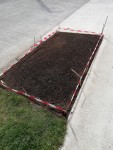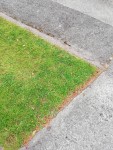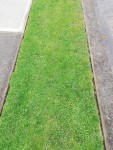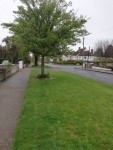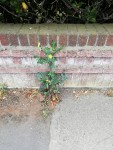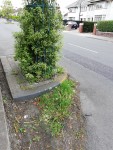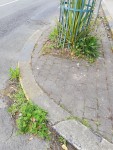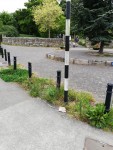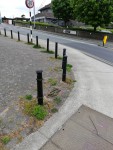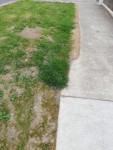 Note: DLR County Council cuts grass only on main transport/public routes and road verges but not housing estate verges.  The maintenance of the verges are the responsibility of the residence within an estate to maintain. This criteria applies across the county.  
Dlr cut the grass versions on 5 roads in Mount Merrion per above criteria.  The grass verges are cut approx every two weeks during growing season, depending on the weather.  These roads are:
North Avenue
South Avenue
Fosters Avenue
Verge opposite houses at corner of Glenabbey Road
Mount Anville Road
Residents on all other roads within the Demense are responsible for the grass cutting and maintenance of their verges.