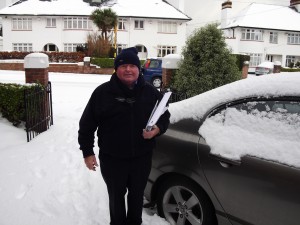 For more than a dozen years Brendan Duff has been the happy face of officialdom in Mount Merrion.
As Postman for the Northern half of the Demesne Brendan knew and chatted with old and young on his rounds in all kinds of weather. His good humour, bright smile and quick words were a hallmark of the man.
Officially Brendan retires on December 6th but as he has holidays due to him his last delivery date will be at the end of November.
So, if you get a chance please do say SLÁN to Brendan, we will miss him.