To many of our residents Heritage is associated with places like Newgrange, the Hellfire Club, Glendalough, Christchurch Cathedral and other well-known monuments and historic places. And they are quite right, these places are a very important part of our national Heritage, they help define who we are and who went before us.
But Heritage is far more than that. It can also be defined by events more recent than those ancient monuments and places.
Take for example Mount Merrion. A little over 300 years ago the area of Cnoc Rua was a woodland and pastureland where wild game roamed freely and where members of the Fitzwilliam family and friends did some of their hunting.
In 1711 Richard the 5th Viscount Fitzwilliam decided to build his new home there. Initially he built a Lodge and a Stable Block with the intention to build a grand House later. The extensive gardens were laid out and were entered through a magnificently decorated wroth iron gate. The main entrance to the Demesne was between two huge Limestone Gateposts and a superlative ornate Iron Gate situated at the N11 end of East Avenue.
His Son Richard the 6th Viscount later developed the Walks, Trees, Icehouse, Gazebo and Deerpark with ha-ha walls and streams. Later his son Richard 7th Viscount engaged the leading Landscape Artist of the period William Ashford to paint 6 beautiful canvases of and from Mount Merrion, he also sketched 26 lovely Grey Wash portraits of the area.
Later still the Lodge was occupied by Sir Nevile Wilkinson, his wife and two daughters. Thanks to the imagination of Gwendoline his eldest daughter the world Famous Titania's Palace was created and after 14 years was completed.
Sir Nevile and his wife planted some rare trees including Irish Oaks, Beech, Sycamore, Chestnut and a lovely stand of Yew trees.
Then of course we had the early 20th Century developments. The Iconic Rupert Jones designed and John Kenny built White Arts and Crafts style homes with their low red brick walls and wide streets. They were the talk of Dublin and set the pre-war standards for middle class house building in Dublin.
What has this got to do with HERITAGE you may ask?
Well on the site of the original Lodge we now have our wonderful Community Centre.
Across the car park we have the incredibly well preserved Stable Block with its bell tower and distinctive design. Although there is a Preservation Order on the building permission has now been granted by DLR County Council to convert the Block into Mews or Town Houses, without interfering with the outline.
The Beautiful Gates:
The Pillars and gates from the EAST Avenue now grace the entrance to Willow Park School, so they are well looked after.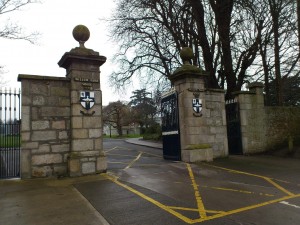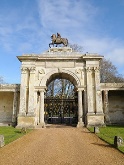 The Gorgeous gates leading to the Gardens were taken by the Herbert family back to their home in Wilton House in Salisbury in Wiltshire UK. There it is well cared for and admired by thousands of visitors each year, not sure they realise it's Irish from Mount Merrion.
The remnants of the Ha-ha wall can still be seen behind Maguire's shop on Deerpark Road. Some of the Trees can be identified especially the Scots Pines near the Tennis courts. The Icehouse is in the park and was only covered in for safety reasons in the 1970s by DLR CoCo. Perhaps it could be restored and fenced off as it would be a lovely addition to the Park.
The 6 William Ashford Landscapes and the 26 Grey Wash Drawings all of and from Mount Merrion can be seen in the Fitzwilliam Museum in Cambridge UK. The paintings were recently restored and they are beautiful as indeed are the drawings which are still in their lovely red Moroccan Leather Album. Well worth a visit.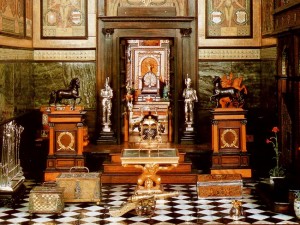 Titania's Palace is an amazing creation. The famous Irish Furniture maker William Hicks built the 20 roomed miniature palace using rich mahogany into which Sir Nevile place more than 2000 miniature pieces of furniture, china, delph, iron, stained glass, electric lighting, wall paper, carpets etc.  It cost thousands to have every piece individually made by worldwide craftspeople. It took 7 years to complete.
Unfortunately the Irish Government was outbid for it by the Lego Company in Denmark. It is currently exhibited in the Egeskov Castle in Denmark, worth googling.
The Kenny built houses with their distinctive plaster finishes, their side opening windows, individual chimneys, low red brick walls and unique designs have been granted AR11 status by DLR CoCo. That means they are regarded as being of distinctive Architectural merit of the 20th century.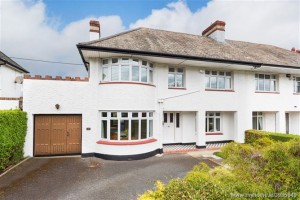 Alas, not all the Kenny houses have retained their distinctive designs. Whilst it is understandable that changes have to be made to suit 21st century tastes every effort should be made to effect as few changes as possible or necessary to the façade of these beautiful iconic homes.  And to our shame.
Within the past few weeks the Developers of the Stable Block deemed it necessary to cut down a magnificent stand of 11 tall straight healthy valuable 116 year old Yew trees which according to the timeline were most likely planted by Lady Pembroke or her daughter the wife of Sir Nevile Wilkinson.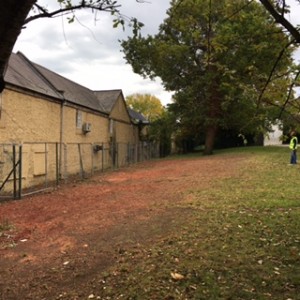 This should not have happened. These trees had seen many changes in their short lives–the sale of Mount Merrion Lodge, its use as a Church, a School, a Community Centre, the building of the Church of Saint Thérese, Scoil San Treasa, the fire and rebuilding of the Scout Hall. Their destruction is to be profoundly regretted.
We, the residents of Mount Merrion have much to be proud of. We do have our own heritage. But we are transient and we do not own Heritage.
Heritage is entrusted to us to safeguard it and hand it on to the next generation.
Please think about creating a bit our heritage of our own that can be admired by future generations.  Suggestions to the editor.