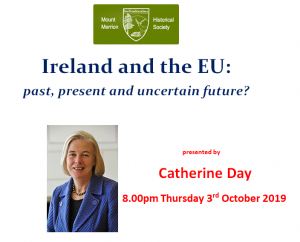 Mount Merrion Historical Society would like to advise you of our upcoming talk at 8:00pm on Thursday 3rd October in Mount Merrion Community Centre.
Catherine Day will talk about how the EU has evolved since Ireland joined in 1973 and will discuss how Ireland has changed in response to its EU membership. She will cover the reasons leading up to the Brexit vote in 2016 and will look at the options for the UK outside the EU. She will also explore how the EU will change once the UK has left and what those changes are likely to mean for Ireland. Her talk will provide the context for a discussion which will follow and allow for an update on the unfolding drama in London.
Catherine Day joined the European Commission in 1979. She worked in Cabinets of Mr Richard Burke (1982-1984), Mr Peter Sutherland (1985-1989) and Sir Leon Brittan (1989-1996) whom she served as deputy chef de Cabinet. In 2005, Catherine was appointed Secretary General of the European Commission. She served two terms with President Jose Manuel Barroso and continued with his successor Mr. Jean-Claude Juncker until she retired in 2015.
THE COMMUNITY CENTRE, MOUNT MERRION
Admission: Members No charge (see Season Membership)
Non-Members: €4.00 (Students €2.00)
email: mountmerrionhistoricalsociety@gmail.com
website: www.mountmerrionhistorical.com
While the Society will endeavour to deliver the published agenda, lectures and speakers may be changed due to circumstances outside its control.
Regards
Peter Walsh Hon. Sec.