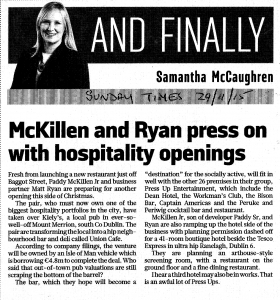 It's been hard not to notice the frenetic activity around Kielys of Mount Merrion recently. Since new owners the Press Up Entertainment Group moved in and closed the doors two weeks ago we've all been curious to see what they have in mind for what is an important retail and social hub for Mount Merrion, and one that has long been in need of an upgrade. Diggers have been levelling the carpark on the west (Flanagan's) side of the pub and large skips have emptied the entire contents of the old lounge.
Details of the group's plans began to emerge over the weekend, with a small piece in the Sunday Times (pictured) and a recruitment notice on Jobbio. Mention of a market is an innovative and exciting idea – are we to expect something like a fully licensed Fallon & Byrnes? As far as is known, they plan to preserve the character and function of the old bar on the left.
We'll know over the next two weeks.
Whatever their plans, we wish the new owners every success. A successful landmark enterprise on this site can only be good for the area, as well as providing much-welcomed employment opportunities.
(Their website is ready to go at unioncafe.ie.)