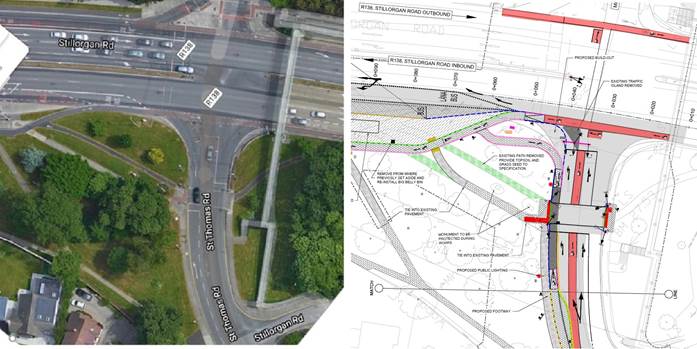 Construction works have commenced on the upgrade of a cycle route on Stillorgan Road near University College Dublin.  This scheme extends from the junction with The Rise to the pedestrian footbridge midway between the Fosters Avenue junction and Belfield flyover.
The left slip road from The Rise turning left onto the N11 north bound is being removed and being replaced by a left turning lane. The existing layout and the layout under construction are shown here.
Construction work is scheduled to continue for another 6 months.
The main works to be carried out, as part of the pedestrian and cycle scheme, include the following:
Enhanced facilities for cyclists on the city bound side of Stillorgan Road including the provision of 2.0m wide cycle tracks.
Reconfiguration of the junction of Stillorgan Road and the Rise.
Upgrade of the Stillorgan Road and Fosters Avenue junction to include a pedestrian/cycle 'toucan' crossing across Stillorgan Road and Fosters Avenue and the provision of enhanced facilities for pedestrians and cyclists. This will provide a crossing point for students attending the nearby schools.
Development of a new pedestrian and cycle entrance for UCD on Stillorgan Road at footbridge to improve accessibility to and from UCD. A two-way cycle route will be provided from the new entrance to the Fosters Avenue junction.
Relocation and modification of bus stops to provide enhanced safety for cyclists.
All associated utilities works, including the relocation of public lighting, traffic signals, trees, and third-party utilities.
https://www.dlrcoco.ie/en/council-democracy/capital-programme/n11-junctions-upgrades
Public Consultation Report, Dun Laoghaire Rathdown County Council – 07 June 2018
Replacing left slip turns with left turning lanes is in accordance with guidance from the Design Manual for Urban Roads and Streets (DMURS 2019)
For more details contact:
Traffic Section, Level 4, Harbour Square, Dun Laoghaire. Tel. no. 01 2047027, email: traffic@dlrcoco.ie
Details of Stillorgan Road Cycle Scheme and cycling in the Council e-mail at cycling@dlrcoco.ie