We are delighted to announce that the Little Free Library has found a new home on the rear wall of the Presbytery Garden beside the back gate into the Mount Merrion Community Centre.  Thank you to Des Smyth, Fr Brian and Paddy Doyle, Community Centre Caretaker, for their efforts in getting the library cleaned and varnished and ready for it's great new home.
And a special note of thanks to the former residents of 72 The Rise who introduced the library to Mount Merrion and kindly hosted it outside their house for the last few years.  We wish them well in their new home.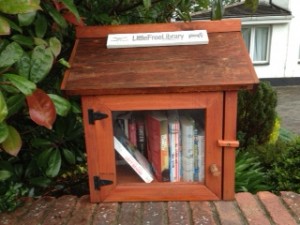 The aim of the library is to inspire a love of reading, build a community spirit and spark creativity by fostering neighbourhood book exchanges.  The idea is to leave a book and take a book!  Why not give it a try?
For more information on the Little Free Library programme see: https://littlefreelibrary.org/about/