Check out the fantastic fox cub photos taken by Dublin based photographer and photojournalist Crispin Rodwell in the garden of Redesdale Road earlier this week.
A series of fortunate events over the past few days on the Neighbourhood Watch Text Alert groups culminated in the wonderful photographs in The Irish Times,  The Irish Mirror and The Star (p22) on Thursday May 14, 2020.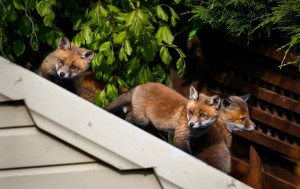 Inspired by Mr Fox in Cherrygarth who deftly nabbed some pigeon pie and was caught on camera by Michael Altman, a video of fox cubs residing in a Redesdale Road garden was posted by Eimear Cahalin.
Caroline O'Riordan saw the photos on the Thornhill NW group and put Eimear in touch with photographer Crispin Rodwell who had asked to photograph the cubs.
Crispin has kindly given the MMRA permission to post the photos on the MMRA website.  If you have any newsworthy photos or articles please contact Crispin at crispin.rodwell@gmail.com