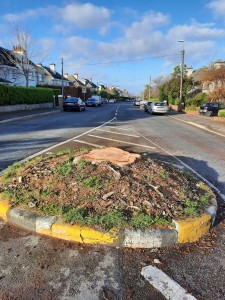 It is with great sadness that the tree at the junction of The Rise and Trees Road Upper was felled on Tuesday November 17th.  It was dead on one side.
DLR  Environment have responded to the may residents who contacted Lorraine O Hara at environ@dlrcoco.ie regarding the sad loss and requesting a replacement tree.  They have assured us that a replacement will be planted in due course.  See email below.
"…We completely agree that the tree was integral to the cultural and historical ties to the area.  However it must be noted that is was almost completely dead, and therefore becoming a hazard with the risk that branches might fail and hit some sort of target around it.  Therefore it was an absolute necessity to remove, no maintenance of any kind could restore any vitality to it.  It will take a couple of years for the underground tree roots to deteriorate sufficiently for a tree to be replanted here but once it does we shall replant a replacement.
It was a Sycamore, quite difficult to say about age but I imagine it dated back to when the area was part of a local estate/farmland or church grounds. They are quite long-lived trees and this has died naturally no disease, etc. "
MMRA get many queries about street trees, the removal of them and the wish of the homeowner for a replacement.  Our Environment Committee keep a list of requests and contact on to the Council on your behalf.  We would encourage homeowners to contact DLRCC Parks Department directly as well at environ@dlrcoco.ie.  The contact is contact Lorraine O Hara.
For more on Mount Merrion trees, old and new click here.