The proposed development  is for 47 dwellings comprising 33 apartments including three 1-bed, twenty-four 2-bed and six 3-bed apartments. Fourteen houses including one 5-bed 3-storey semi-detached house, three 4-bed 2-storey semi-detached houses, two 4-bed 3-storeys semi-detached houses and eight  5 bed 3-storey terraced houses.
Vehicular and pedestrian access to and from Cherrygarth is via the existing access and via a proposed vehicular access on the southern boundary. Two pedestrian accesses are provided.
Impact on Cherrygarth.
The proposed plan is unsustainable when taken in conjunction with the Oatlands development, located less than 50 meters away which is seeking planning permission to build over sixty residences. This will radically change the character of the area and negatively impact on the existing residents and services in the whole of Mount Merrion. Four stories in an area of predominantly bungalows is too high and will seriously impact on light and will overshadow some houses in Cherrygarth.
The density at 50 units per hectare is just off scale for this area. When combined with the Oatlands development the cumulative impact will be enormous. Security and privacy of existing residents will be compromised.
Inadequate parking provision for both developments will certainly will result in parking on existing narrow roadways.
Traffic exiting on to Trees Road will quadruple existing volumes and result in even greater traffic delays on Trees Road than is currently the case. This junction is already dangerous due to inadequate line of sight for exiting traffic.
Access for emergency services to Cherrygarth and to each of the proposed developments Oatlands and Thornhill will be restricted due to traffic volume and road layout.
There is no provision for schools, all of which are at full capacity in the locality resulting in children having to travel significant distances to school.
Water and other utilities will be an issue because current capacity is just about adequate.
Protected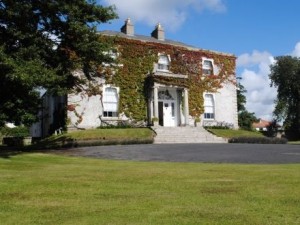 Structure
The views from Thornhill House will be destroyed and this will seriously impact on this 18th Century house because of the density and height of the development on the grounds which are relatively small for such a house.
Impact on Mount Merrion
Residents of Mount Merrion need to waken up to the reality that this project will seriously contribute to the changing character of the area, the diminution of their quality of life and reduced property values. Taken in conjunction with the Union Café/ Flanagan's site, 93 The Rise, Roebuck Avenue and Oatlands the County Council is determined to turn Mount Merrion into a high rise, high density area without any consideration or planning for traffic, schools, utilities and other services.
What can you do?
You can immediately make your views on Thornhill known to DLR planners. The closing date is 19th April. MMRA is holding a meeting for residents in the community centre on Wednesday 5th April at 7.30. to discuss this proposed plan and the wider implications for Mount Merrion. Local public representatives will be attending.