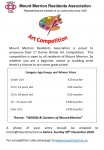 Theme: "Wildlife & Gardens of Mount Merrion"
Competition Rules:
Only residents of Mount Merrion Demense may submit entries.
You may enter up to 2 pieces of artwork, which must be separate.
Closing Date:  midnight Sunday 20th December.  
How to submit entries: The photo of your artwork should be emailed to mmra@mountmerrion.ie before midnight Sunday 20th December and should include: your name, age category, home address and contact telephone number.  For category age groups under 10's and 11 to 14 years old, the parent's name should be included with the entry, together with their name and contact phone number.  If you would like to include a title or comment about your "Wildlife & Garden" entry we would love to hear what inspired your creations.
All artwork should be kept safe for judging as MMRA may display winning entries subject to securing a local exhibition space within the community.  Winning entries will be professionally photographed.
Winners will be announced on Sunday 10th January 2021
Details of winning entries (name, age category) may be used for publicity purposes in the Mount Merrion Residents Association Newsletter, e-Newsletter and MMRA website.
Artwork must be original, your entry will be forfeit if it is not original artwork
In the spirit of supporting local businesses in Mount Merrion, MMRA will endeavor to issue winners with prize vouchers that can be redeemed within the community. Cash equivalent to prize vouchers is not permitted
The decision of the judges is final, and no correspondence will be entered.
Printable PDF:  MMRA Winter Art Competition 2020 – Competition Rules
Printable PDF:  MMRA Winter Art Competition 2020 – A4 Poster